"Spektar" folklore orchestra – Varna, Bulgaria
art director – Nikolay Doktorov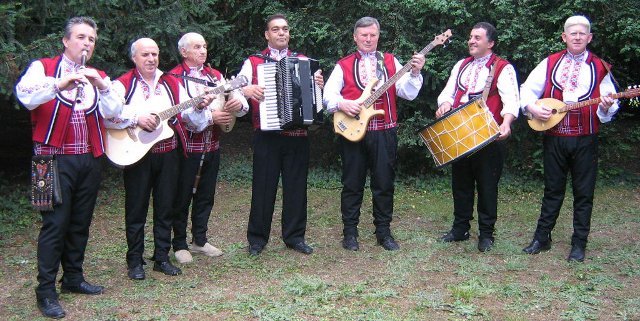 Overview
"Spektar" orchestra exists in its present form, since 1989. It performs Bulgarian folklore music, adhering to its classical variant. The instruments used are mostly old, folk-style instruments, such as kaval, bag-pipe, mandoline, kettle-drum as well as some contemporary ones – accordion, guitar, keyboard and bass guitar.
"Spektar" performs instrumental folklore from all folklore areas of Bulgaria, incl. Thrace, Strandja, Rhodopes, Macedonia, Northern, Shopska, Varna etc. In addition to the purely instrumental folklore, the orchestra also accompanies singers. Performers' age ranges from 9 to 75 years and all appear at the stage wearing authentic national folklore costumes.
"Spektar" gives performances at various national folklore gatherings and competitions, such as :
"Koprivshtitza national folk art festival"
National folklore gathering, Veliko Tarnovo
"Leaf fall of memories" national festival, Varna
"Joy by the sea" – national festival, Bourgas
Series of national festivals held by the "Blind people's union"
Series of festivals held by the "Blind people's community center – Louis Braille"
"Orpheus spring" national festival, Stara Zagora
People's gatherings at Suvorovo, Golitza, Voyvodino etc,
where it is recognized as a laureate and rewarded various prizes. "Spektar" often takes part in numerous concerts in Sofia, Dryanovo, Shoumen, Smolyan, Shiroka Laka, Bourgas, Varna, Silistra, Obzor as well as some gatherings in the Republic of Macedonia.
Artwork
"Spektar" has already released two albums, two TV films and has participated in several radio and TV broadcasts, while enjoying good popularity.
Members
Nikolay Doktorov – kaval, director

Nikolay has been the art director of the orchestra since its foundation. He is a distinguished kaval performer, folk music director and a teacher.

Petar Manolov – bagpipe

Petar is a bagpipes performer with 40 years of experience. He is a long-time member of the orchestra and also takes part in other Bulgarian folklore gatherings and rituals as a soloist.

Dragni Dragnev – bagpipe, keyboards, kaval

Dragni is a young, but exceptionally capable musician and teacher. He has a lot of experience with Bulgarian folk music, and has given a many live performances as a soloist and accompanying singers.

Ivo Atanassov – kettle drum

Ivo has been with the orchestra since its foundation. While still seeing, Ivo used to be a promising drummer and his precise sense of rhythm is very valuable to the orchestra.

Mihail Gankov – mandoline, vocals

Todor Valkov – kaval, bagpipe

Slavcho Avramov – bass guitar

Slavcho has been with the orchestra since its foundation. He has also performed popular mucis.

Georgi Karagyozov – accordion

Georgi has been playing the accordion since his youth years

Petar Dechev – guitar, vocals

Petar has been with the orchestra since its foundation

Maria Mineva – vocals

Maria has an exceptionally rich repertoire of Bulgarian folk songs. She's also a laurate at many competitions

Petko Alekov – vocals

Petko is the oldest member of the orchestra. He's been giving a countless number of performances and has a very rich repertoire of Bulgarian songs

Desislava Stefanova – vocals

Desislava started singing with the orchestra since she was a child. At that age she was also a soloist of the "Balgarche" children's folklore ensemble at Municipal Children's centre
There is an atmosphere of friendship and mutual support at "Spektar", in which everybody can give way to their talent and creativity. Thus, the fact that more than a half of the performers are visually impaired does not represent an obstacle to realization and stage performance.